Hello pilots! Get ready for another monthly report!
June was all about adding some much needed wow factor to the Apollo. We wanted to showcase our long term goals, finalize some of the broader features of the game, and continue to add depth to one of the most important aspects: Ships.
First up, the new Epic Space: Online Trailer which provides an interesting backdrop for the story and highlights the basic ship. We've also given the Apollo the ability to repair itself, but with limitations. And to double down on the idea that the Apollo is a multirole ship, we've added Transport missions to each station giving players a wide variety of options to choose from.
We've also implemented joystick support and included some bonus features in support of this -- which we'll cover in a little more detail below.
Here's the official rundown of what went down in June:
---
New Ship Abilities
The Apollo now has the Nanite Repair ability. When activated, the Apollo's hull is repaired for up to 25 hit points. There is a 2 minute cooldown, and the ability unlocks at level 3.
It's best to use this ability for hit and runs! Going up against any outpost will most certainly cost you, these Nanites will keep you in the fight a little longer.
---
New! Commodities
We've added the following tradable commodities: Cattle (Angus, Hereford, Simmental, Limousin, Gelbvieh), Meat, Vegetables, Grain, Building Materials, Seeds, Books, Batteries, and Food Rations. These are seeded automatically with the new missions system that can be accessed in any docking port.
---
New! Ship Repairing (Station)
Pilots can now repair their ships when docked for a cost. A slider has been added to the ship repair window giving pilots the option to select a repair plan that suits their budget. But of course, this service shouldn't be needed for any Apollos above level 3.
---
New: Intro / Tutorial Video
A new video has been added after the character selection screen giving pilots a general idea of how to play. It's only about a minute long but has some great tips regarding how each faction wins. Be sure to check it out.
---
New! Key Rebinding
Pilots can now rebind all keys in the options menu. Preliminary Joystick support has also been added. We'll add more functionality in a subsequent update. Complete HOTAS support is available.
---
New! Missions
Pilots can now select from an array of Combat, Salvage, and Transport missions at Bradford or Hadfield Station.
- Combat missions, depending on the target, can be completed in either friendly or enemy sectors.
- Transport Missions require you to take an array of goods to any Player Owned Hangar from either Bradford or Hadfield Station.
- Salvage Missions require you to locate the desired item anywhere in the universe and bring back to either Bradford or Hadfield Station.
Pilots can also double up and triple up on the same types of missions. Visit Bradford or Hadfield Station to view and select available missions.
---
New! Joystick Support
Epic Space now has Joystick (and by extension Gamepad) Support. This is disabled by default but can be enabled in the Controls menu. Pilots can now roll their ship and have complete 6-DOF when the Joystick Option is enabled.
---
New! Cockpit View
Press F1 (can be rebound) to switch to the First Person Camera. Definitely a must try for space sim fans.
---
New! ScreenshotsShips, Explosions, and Gunfire -- Oh my!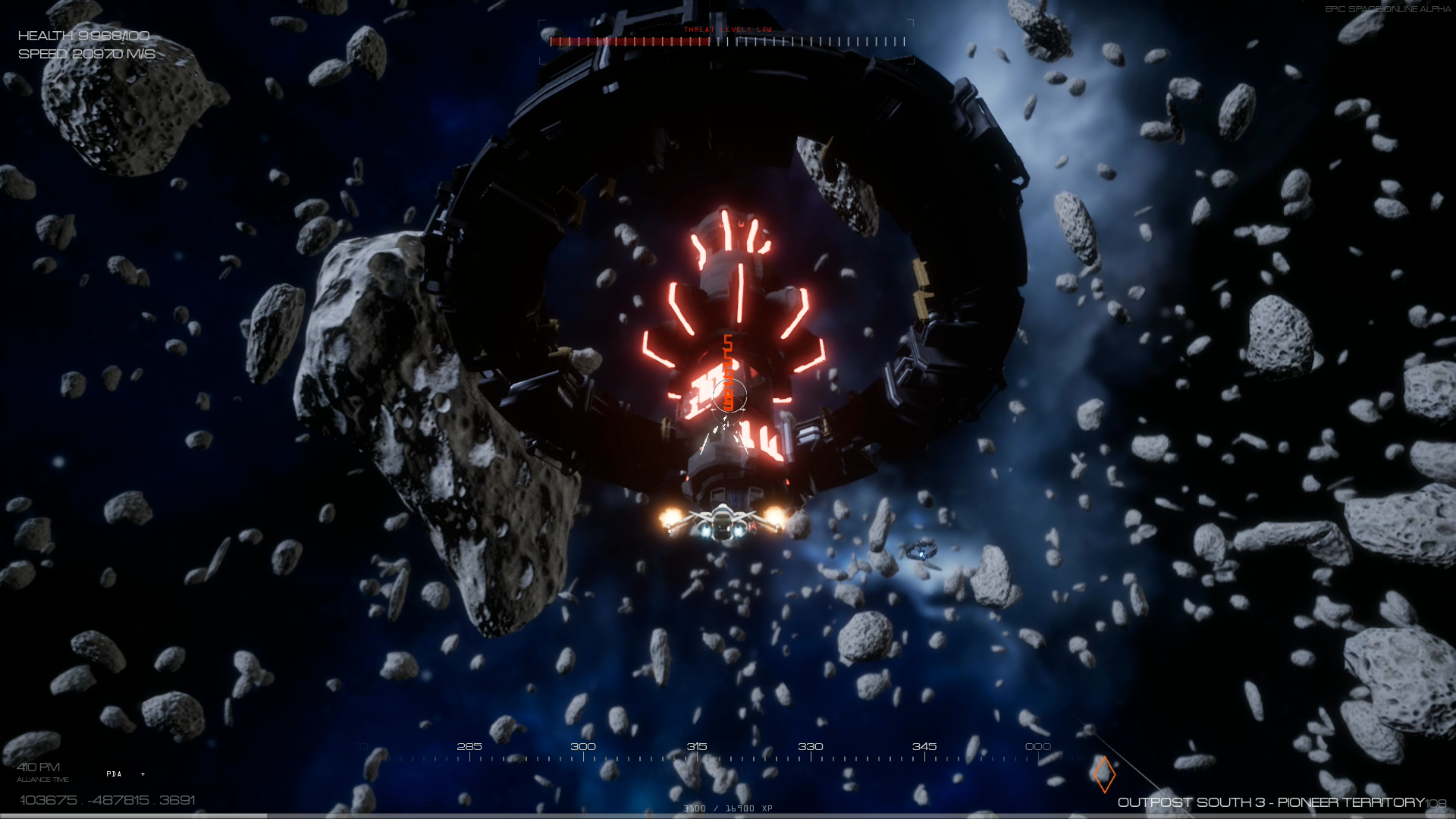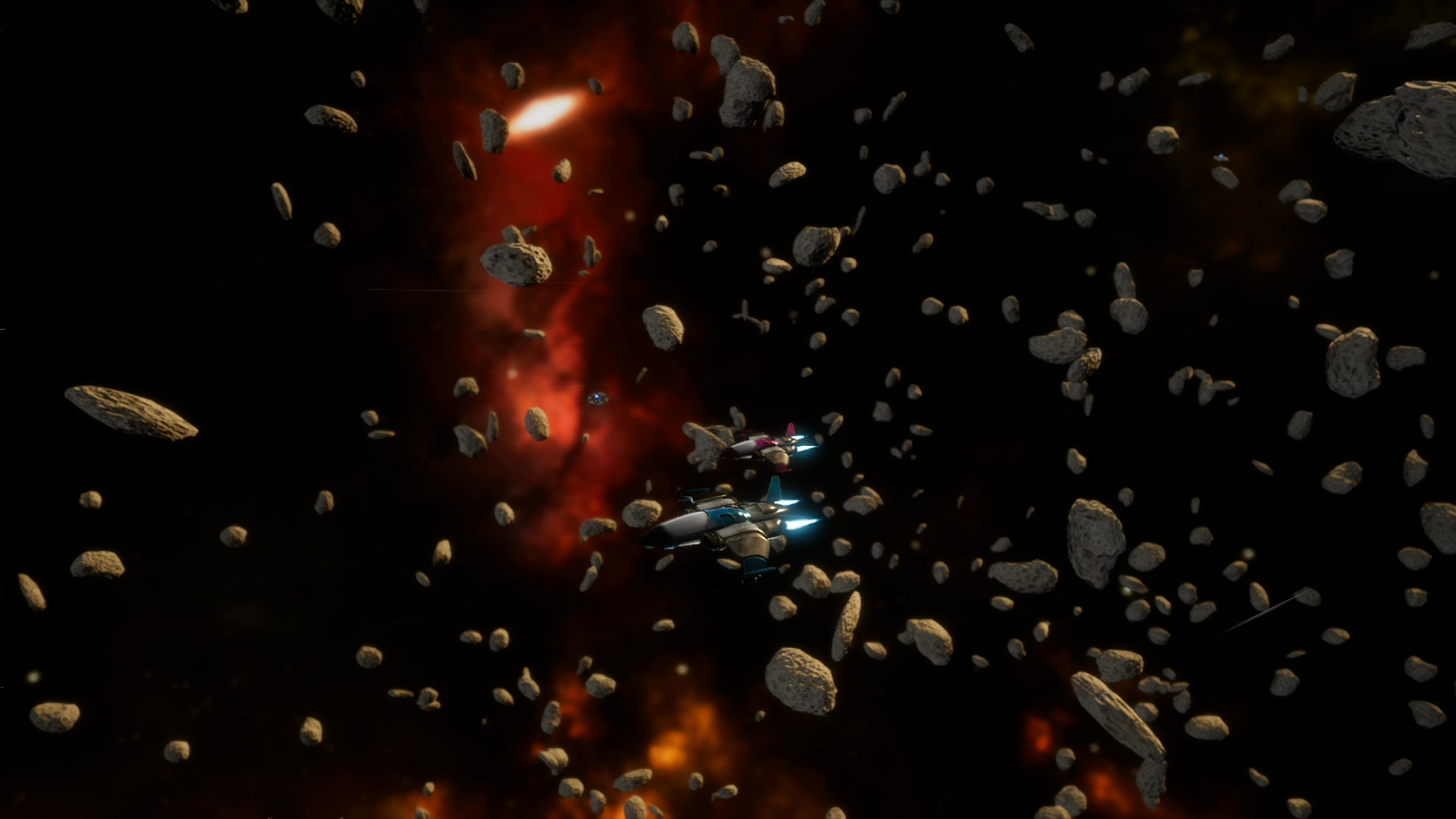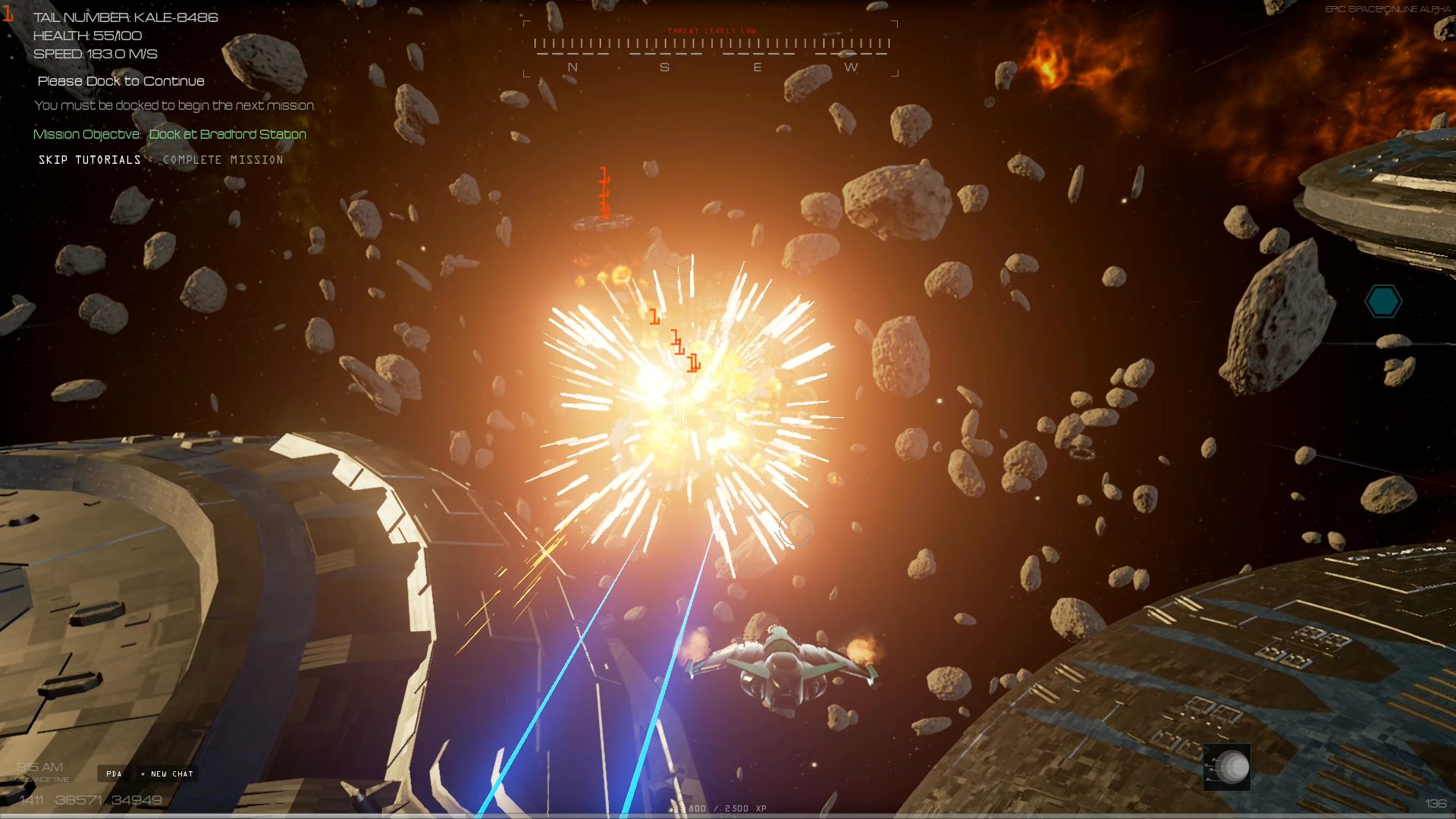 ---
Changes / Tweaks
Ore Detector has been renamed to Asteroid Scanner.
Notifications now show as orange when an asteroid scanner finds a resource.
Recent Flight data is now shown to players on death.
Pilots are now notified when their ship earns XP.
New sound effects for explosions have been added.
Pilots flying less than 800 m/s can no longer be detected.
Squad Operations has been renamed to Flight Operations.
Pilots can now send packages to other players at the same station with message attachments (Maximum 5 outstanding packages).
Ship detectors no longer spawn and will soon be phased out.
A crafting recipe for Mining Beams has been added.
Chat windows can now be resized.
Chat windows have been modified for readability.
Discord users are now shown in game as "Username (*)".
Ship Health now blinks red when low.
Pilots can now uninstall specific turrets and modules from the Ship Panel.
Inbox messages that contain attachments now have an "Attachment" icon next to the message.
The default sell price for any item is now automatically set to the average price.
Bug Fixes
Fixed an issue causing action and ship ability icons to appear numerous times has been fixed.

Fixed an issue where ship health would not save when jumping to another sector.

Fixed an issue that caused the galaxy map to not be closed when requested.

Fixed an issue that caused avatars to not load properly in some cases.

Fixed an issue causing the Wallet balance to be displayed incorrectly.

Fixed an issue causing Cargo boxes in space to disappear when colliding.
And that wraps up June! Remember to reach us on Discord for tech support, tips and more.
-T